Hello Everyone –
We were in the garden tonight, making plans for the second half of the season. Our weekly Saturday volunteer work sessions will now be from 9 a.m. – noon. We hope this is a more convenient time for everyone. With the adjustment to the schedule, we hope to garner more volunteers – this weekend we will be working on our compost bins, cutting the grass, making flower boxes and pulling weeds.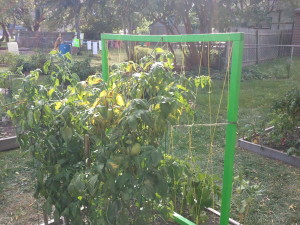 We will have a live demo:
"how to properly secure tomatoes"
An open discussion "unique trellis concepts for cucumbers" will also take place this Saturday read the article.
As always, gardeners of all talents and experience are welcome (and encouraged) to join in and share their knowledge. WHAT you're not a gardener? No worries here – consider this your chance to join others as you learn from the group.
The Eastpointe Community Garden adopted a flower bed inside the Median near Toepfer and Gratiot. You are welcomed to join other volunteers at the Adopt A Bed location. We will head over after finishing up at the Community Garden (around noon).
-See you at the Garden.