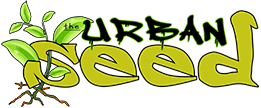 The "Urban Seed" concept was first thought up by a 26 year old named John Hofmann. He thought this idea might be a good way to promote local gardens in the area and that more volunteers could be reached if  local garden's promoted the same "brand" (similar to the way musicians use SoundCloud to reach their listening audience). John's concept was supported by the local Chamber of Commerce and numerous community groups. At an open meeting John was introduced to an amazing group of community volunteers including Master Gardeners, Landscapers & residents of Eastpointe, MI -all working together to start the first urban garden within the city. The Eastpointe Community Garden was the first urban garden to join the Urban Seed Project in 2012.
Shortly after the Urban Seed started promoting the Eastpointe Community Garden other gardens started to inquire about the project. The urban Seed's branding and awareness had started to take root. John's simple concept was in fact helping to amplify the efforts of Michigan's local urban gardens.
All of Michigan's Urban Gardens are welcome (and encouraged) to join the Urban Seed Project. A page with a map listing, blog for garden news/updates and most importantly -a way to connect with the project's volunteer base is provided at no cost.